HELLO AND WELCOME TO THE SN1 FIT PAGE!
Firstly, thank you for clicking on my page! So who am I and what is this all about?
I am Laura Freyne, owner of SN1 Fit Ltd. I am a Personal Trainer at Kiss Gyms, and own the franchise for Fight Klub in Swindon.
I am passionate about fitness and I specialise in strength training to maximise fat loss for women.. If you want to see, feel, and maintain results then look no further!

ALL PERSONAL TRAINING AND FIGHT KLUB CLASSES ARE ON MY BOOKING SITE https://goteamup.com/p/2256930-sn1-fit/

PERSONAL TRAINING
Here is a snapshot of my services for Personal Training:
- Transformation Services (4, 8 or 12 weeks)
- One-to-one Personal Training Sessions
- Remote Personal Training Services (NEW!!)
- Group Personal Training Services (2 or 5 people)
- Nutritional Guidance
- Emotional Support
TRANSFORMATION SERVICES
During 2018, I worked with some clients on a Transformation Program, for either 8 or 12 weeks. The results have been outstanding! The progress photos speak for themselves, check out Hannah below. I will be able to take on more transformation clients in January, so if you are getting married, want your pre-baby body back, or going on holiday and want to make a change in 8 or 12 weeks then contact me! What does this program include? You will have 3 PT's, attend 2 Fight Klub classes a week, receive a tailored nutrition plan specific to you, and daily check ins with me plus weekly photos and measurements on day 1, 28 and 56.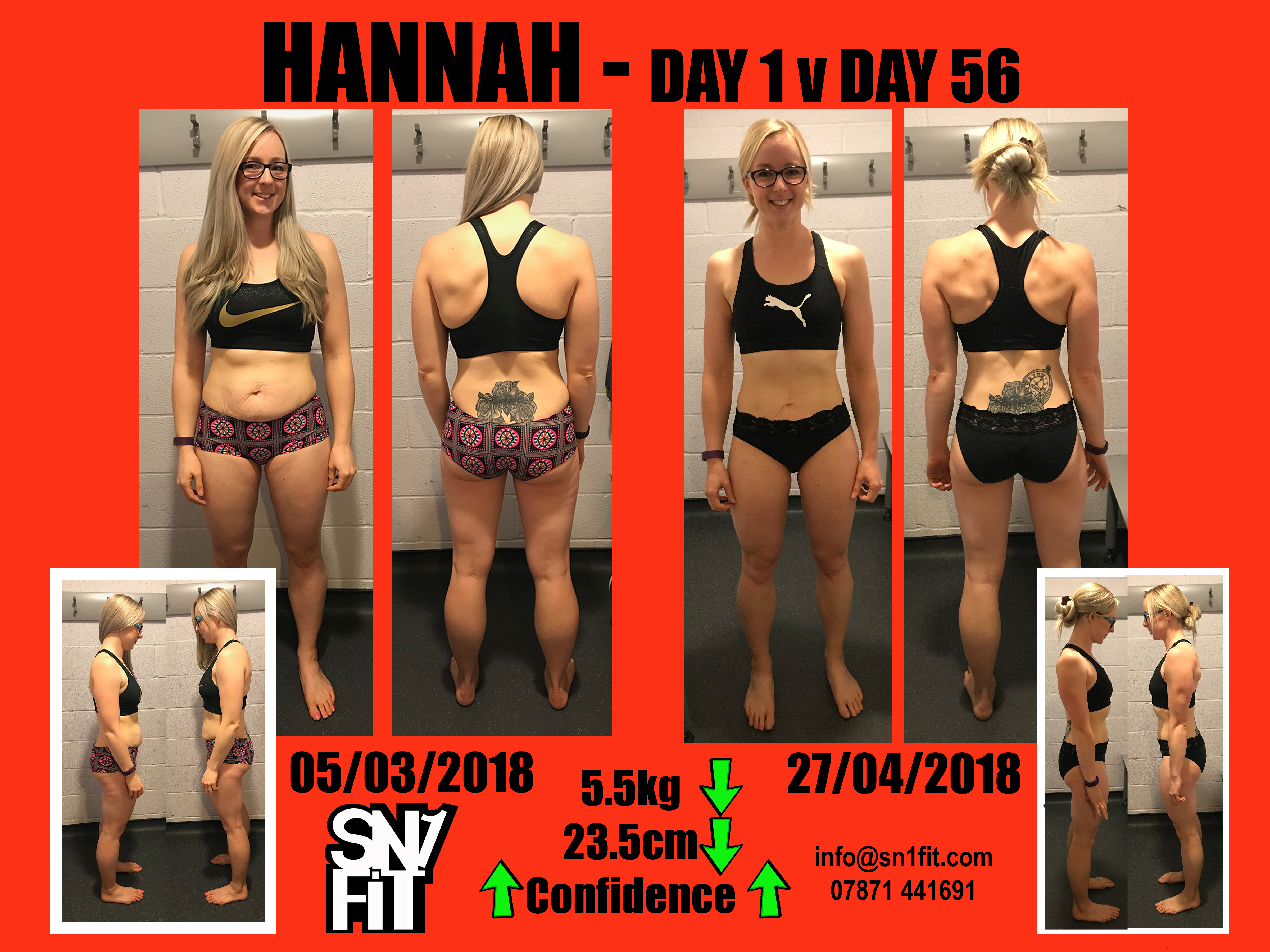 ONE-TO-ONE PERSONAL TRAINING SESSIONS
Aside from the Transformation Packages, I also offer standard PT sessions for those that are not able to or do not want to commit to 3 sessions a week and the nutrition for the 8 or 12 weeks.
These are one hour long, and uses a variety of equipment (machine, free weights and bodyweight) using a certain method to meet your goals. As I mentioned before, I specialise in fat loss for women through strength training. That combined with he nutrition is a recipe for success. I still provide nutrition guidance for those who have PT sessions, so not on the Transformation Programs, so I will provide your macros you need to meet and a list of foods, and you will need to plug in the info into an app such as MyFitnessPal. Below is a picture of my client Lynds, who has had a PT once a week and attended Fight Klub twice a week.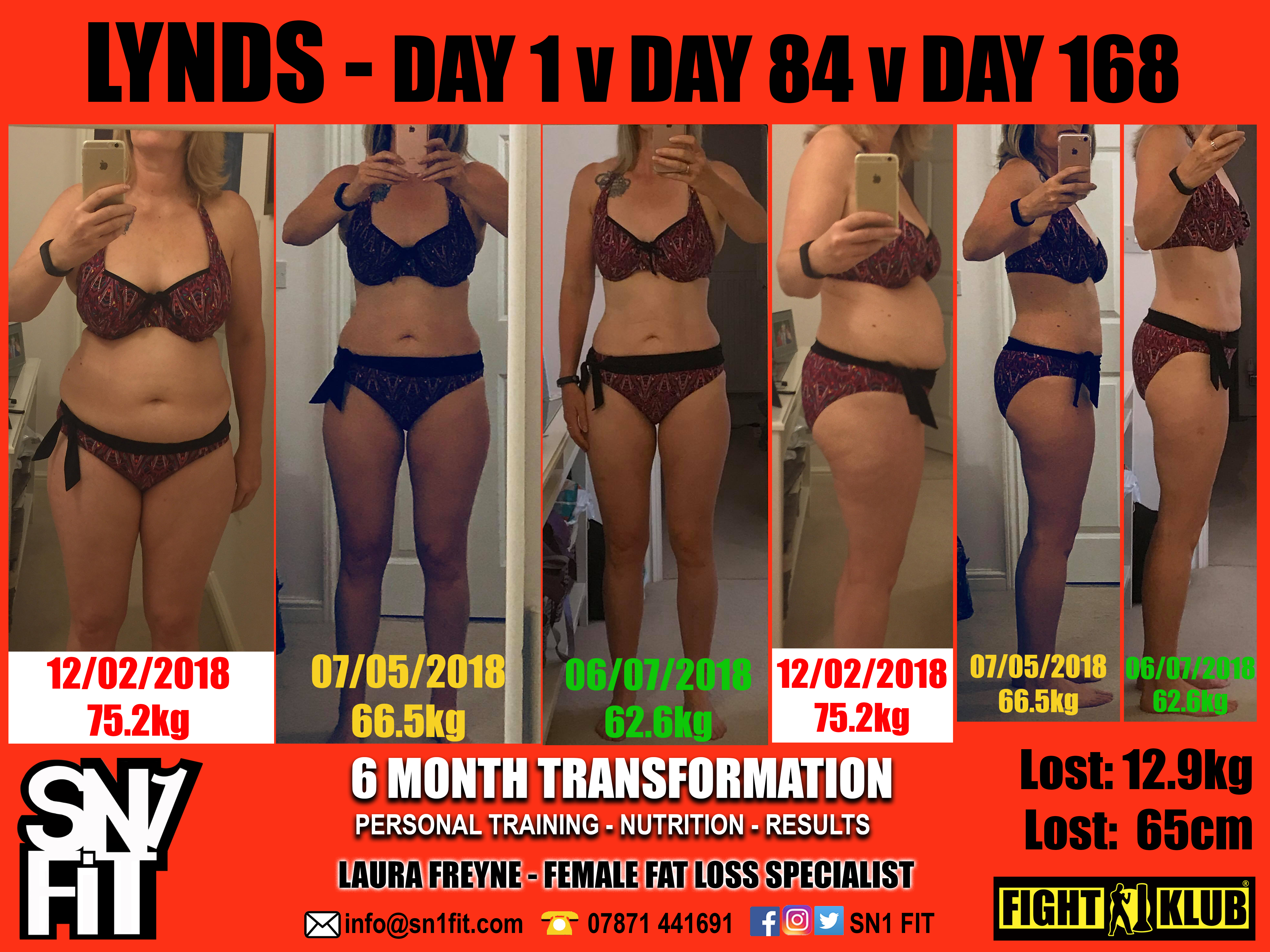 REMOTE PERSONAL TRAINING SESSION

I have a few remote clients that I train via FaceTime or Facebook Messenger. This is perfect for the following people:
- Regular clients who go on holiday and want to keep up with their training sessions
- Existing clients who have moved abroad
- Clients who want training sessions when I am on holiday
- Clients who go on business trips and want their training sessions

These sessions work really well, by clients subscribing to my YouTube Channel (Fight Klub & SN1 Fit Swindon) as I put exercises and instructions on there. I send their plans through 24 hours before, so they can familiarise themselves with the exercise. During the sessions they will place their laptop/tablet/phone in a place so I can see them, and the training session is then just like a personal one-to-one they have been used to.


GROUP PERSONAL TRAINING SESSIONS
I can train 2 or 5 people at a time, so if you are a group of friends who are going on holiday, or bridesmaids, or new Mums, and you all have similar goals, then I can help. Both group types will be weights based - the 2 personal training will use machines, free weights and body weights. The 5 person group session will be in the studio using barbells and body weight.
The sessions run on the following days from 1st February:
- Tuesday 7-8am (2 person)
- Friday 7-8am (5 person)
You can book yourself on here via the booking site https://goteamup.com/p/2256930-sn1-fit/.
I love what I do and I do what I love - please check out the reviews and testimonials on my SN1 Fit Facebook page.
NUTRITION ADVICE / GUIDANCE
For those taking part on the Transformation Programs, I will provide a tailored nutrition plan for you to follow, based on your macros and what foods you like to eat. For those totally new to nutrition and fitness, macros are Protein, Carbs and Fats. Every person is individual, and therefore the grams they need of each macros will vary according to their goals.
For those who have PT sessions, I will provide you with the grams per macro you need to aim for with a list of 'good' foods, and then you will need to plug into MyFitnssPal to ensure you are meeting these targets.
EMOTIONAL SUPPORT
Regardless of whether you have signed up to a Transformation Program or have a PT session once or twice a week with me, you are going to have times when you hit a wall and need support. I am here for you every step of the way. Sometimes all you need is a chat. Sometimes you'll need a hug. Other times you might need a hardcore workout to take out your frustration. You're never alone though.
All my clients have access to the secret FaceBook group where everyone can post ideas on food, where there might be sales on for discounted protein products or fitness gear, or just to ask for tips on how to stop snacking, for example.
Take the first step in changing your life - what have you got to lose?!
Email
info@sn1fit.com
, call or text 07871 441 691, or message me on Facebook
if you have any questions or want to meet for a FREE consultation.
FIGHT KLUB - Here's the History...
On the 1st September 2016 I launched Fight Klub in Swindon. Fight Klub is a boxing workout class to drum & bass music and is intense, challenging, but most of all, fun!! These classes are held in a night club.

Book your space here for Swindon Fight Klub classes https://goteamup.com/p/2256930-sn1-fit/.
***I HAVE LIVE DJ'S ONCE A MONTH IN SWINDON!! THE BEST WORKOUT EXPERIENCE EVER!***
Fight Klub Swindon classes take place at SUJU Nightclub in Old Town, Swindon on Mondays and Wednesdays at 7pm.

You may have heard of this awesome calorie burning boxing craze from seeing videos on Facebook. If you want to see what the Fight Klub Swindon and Bristol classes are like, check out our social media:
Facebook (group): Fight Klub Swindon, (page) Fight Klub Bristol
YouTube: https://www.youtube.com/watch?v=R7FyJLTBAuk
Instagram: fight_klub_swindon
Twitter: @fightklub_sn1
YouTube: Fight Klub Swindon & SN1 Fit
DO YOU LOVE DRUM & BASS, BOXING, AND A WORKOUT THAT LEAVES YOU FEELING AMAZING? THEN FIGHT KLUB IS FOR YOU, COME AND GIVE IT A GO! Burning calories has never been so much fun!